Pidikkaparambu Pooram is part of the famous Arattupuzha pooram.
The pooram is in Pidikkaparambu Mahadeva Temple which is located in Vallachira Panchayat in Thrissur dist. You can reach here from Thrissur either travelling via the Irinjalakuda road or from Ollur side.
This is a night pooram and it starts rather late in the night. Have your dinner and head to this place – make sure you reach there by around 9:30 pm, so that you can participate in the Arattu in the pond by the temple. As all poorams associated with the Arattupuzha pooram, this pooram is not for the fireworks spectacle, rather its for the melam. If you love Panchari melam, be sure to go to this pooram.
Photos of Pidikkaparambu Pooram
Here are some of the photos or pictures of the Pidikkaparambu Pooram taken on 6th April 2017.

Below are some of the pictures of the pooram shot on 17th March 2019.
Below are pictures of Pooram on 24th March 2021.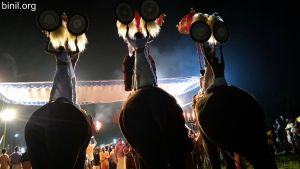 Below are pictures of Pooram on 14th March 2022 (actually 15th early morning)

These shots and videos below are of the pooram in 2023.