The Airtel 4G HotSpot or WiFi Router has been with me for some time now. So I had enough time to evaluate it comprehensively. So here's the long term review.
The model that I am using is E5573Cs-609. This supports the 2.4GHz WiFi band and can connect upto 10 devices. This is a device manufactured by Huawei, China. Its MRP is 3250, but you can get it for much less online or even in shops nearby. I got it for 999 from MobileHut, East Fort, Thrissur. By default it will work only with Airtel sim.
The pack contains the hotspot device, a small usb cable, 1500mAh battery, quick start manual, a safety information manual, warranty card etc.
The device has a power button to turn on or off. There is a micro usb port on the side to which you can connect the charger or usb cable.
The device has two LED indicators – one for battery status and the other for signal. If the battery indicator is green, the battery backup is sufficient, it its red, its time to charge the battery, while charging the battery indicator will be blinking green. For the signal indicator, if the LED is green you are connected to a 4G network, if its yellow you are connected to a 3G network, if its red, then you are connected to a 2G network, if its blinking red, then there is no connection.
There is a reset button inside the device using which you can reset the device to its factory settings.
Pros or Adavantages of Airtel 4G HotSpot
* Good Price – I got it for 999.
* As I told before, by default the router will work only with Airtel sim. But the device can be unlocked to work with other company's sim cards. I haven't done it personally, but there are lots of videos and articles in the internet on how to unlock this device. Do check out YouTube videos. You could get it unlocked in a mobile shop nearby. Also in the net, there are unlocked hotspots for sale. You can find those in ebay.
* Airtel's 558 plan – At the moment, this is perhaps the biggest advantage of this device (Thanks to Reliance Jio, all other companies have no choice but to provide good plans if they are to survive in this market – good for us customers). Airtel's 558 plan provides you with 3GB data per day for 82 days. This is required if you are to share the bandwidth with many devices/people. If not for this plan, the value of the device goes down.
Cons or Disadvantages of Airtel 4G HotSpot
* No Charger is present – There is only one small USB cable present in the box. You can use your mobile charger to charge it anyways – which is what I have been using for charging more often than connecting it via usb to laptop or battery pack.
* Backup isnt that good – backup is mediocre even though it has a 1500mAh battery and according to the company it should last around 6 hours, but I feel that the backup is much less than stated by them – maybe around 3 to 4 hours. Anyways it doesn't seem to last as much as my JioFi 2.
* Just 2 LED indicators So when compared to JioFi's indicators this device has almost nothing.
* Can connect only up to 10 devices – Figuratively this can be considered as a con, unless you use it in an office where there are several laptops and smartphones, this can't be a con. Also in actual scenario, if there are many devices, there may not be sufficient bandwidth for all. So 10 devices should be enough for most homes and offices.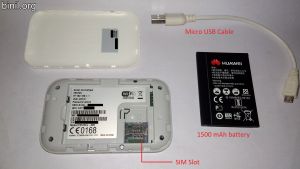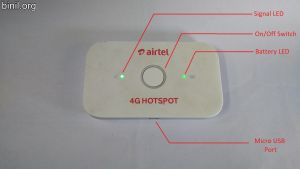 Now I am not saying anything about the speed of Airtel 4G HotSpot. As I explained earlier in the review about JioFi2, internet speed depends a lot according to the signal strength and your area. In my home, I am getting really good speeds with Airtel (much more that of Jio). But there could be places where speeds may be very less (I have found that in my laws home, the connectivity/speed of Airtel is crap).
So please check using an Airtel sim in your mobile at the area where you need to work before buying this. Nevertheless you can buy it and if not satisfied with the speed of Airtel, unlock the device and use another company sim. Your warranty will be void, but your money isn't totally gone. Maybe in the future if I am unlocking the device I will provide a clear step by step method.
I am giving this a 4 stars. Its loosing a star because of not providing a separate charger and a very ting usb cable.