K-Win True Solar Hybrid PCU 1100 is another solar inverter from K-Win Power. It's totally on a different segment than the K-Win Sunsol Solar PCU 1000 that I have reviewed before. As specified in that review, some things are the same – this too may be a beta product – received by me for testing purposes – the final product may be completely different than the one that I am reviewing here.
If you have already went through the review of the Sunsol Solar PCU 1000, I have told that it was the basic bare bones model without much features. But this True Solar Hybrid PCU 1100 is a completely different product. Its main purpose seems to having almost all the features that you could have. This one is for the geeks like me.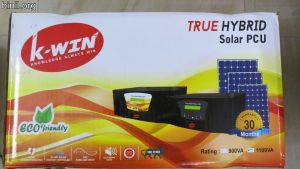 If you have seen the box, then you should have noticed that there also might be a 900va available. But I haven't been able to confirm if it might be there or not. Perhaps in the future, they might introduce it. No need to change the box for that one – just change the tick mark. Maybe a little too much saving there..
Also on the box, you will see that this isn't the same charge controller as we had in the Sunsol Solar PCU 1000 – that one had a 30 Amps charge controller while this one has a 50 Amps charge controller. This might be one of the bigger charge controllers available right now in the Indian market as most solar inverters have only up to 35 Amps at the moment.
There is a warranty card and a manual inside the box. The manual is actually very good.
This one has a LCD display and LED lights (to indicate whether some modes are on or off) – no biggie as most solar inverters from other brands offer LCD displays (may be even better displays, but I won't complain if they keep the price low).
Now where this one stands out is about the underlying features. You can set the battery (SMF or Tubular), Solar Mode (Hybrid, Light or Ultra).
When battery is set as SMF, the charging voltage is 13.8V – this cannot be changed. When tubular battery is selected we can set the charging voltage from 14.0 to 15.0V.
When Hybrid Solar mode is selected, only battery charging is done from solar. Load is not set to solar. Also the battery will be charged from mains if solar isn't there.
When Light mode is selected, load will shift to solar when extra solar power is available and battery is charged fully (battery will be charged from solar and from mains).
When Ultra mode is selected, charging will only be done from solar, it will try to maximize the solar use.
Diving further, you will be able to edit the parameters like battery charging voltage, battery low cut voltage, maximum grid charging current, maximum solar charging current, grid disconnect voltage etc.
If you don't know what parameters that you are changing, its better that you don't change them.
There was a video circulating (from Rajasthan) that this inverter is able to handle a 1 HP motor – it can handle instant loading of 3000 watts and so on. For me, this wasn't working at all.
Even though this inverter seems to handle loads like mixer, washing machine etc (one at a time, not all at once) better than the ones available in the market, it couldn't run the 0.5 HP water pump in my home. The problem I felt is that my pump needs that 2000+ watts for more than a few seconds during the starting time, so this inverter was not able to provide that power for that few seconds and it overloaded.
So you may not be able to run your pump with this.
Advantages of K-Win True Solar Hybrid PCU 1100
* 50 Amps charge controller
* Seems to handle loads pretty well
* Cost – if you noticed the MRP on the box is only Rs. 7200 – so expect it to be available at around 6000. Edit: The price will be nearer to 7200 and in future the price might increase.
* Features and minute changes that can be made in the settings is huge
* 30 months service warranty
Disadvantages of K-Win True Solar Hybrid PCU 1100
Availability – don't know if this will be available all across India
Conclusion about K-Win True Solar Hybrid PCU 1100
If you need more solar power in a single battery, then K-Win True Solar Hybrid PCU 1100 is an ideal platform. It can supports panel up to 900 watts (competitors max out at 600W). Also you should be able to get this at Rs. 1000 lesser price than the competition. I hope that the company soon establishes availability and service.