Arulmigu Dhandayuthapani Swamy Temple is located in the city of Palani, Tamil Nadu, South India.
Its the third abode of the six Abodes of Lord Murugan.
The temple is currently maintained/administered by the Hindu Religious and Charitable Endowments Department of the Government of Tamil Nadu.
Its usually open from 6.00 a.m. to 8.00 p.m unless on festival days on which the temple opens at 4.30 a.m.
There are six poojas performed here, namely
Vilaa pooja at 6.30 a.m.
Siru Kall pooja at 8.00 a.m.
Kaala Santhi at 9.00 a.m.
tchikkala Pooja at 12.00 noon
Raja Alankaram at 5.30 p.m.
Iraakkaala pooja at 8.00 p.m.
The Golden Car can be viewed at 6.30 p.m
You can go to the temple at the top of the hill via the step, winch or rope car service.
If you are in good health then walking may be the fastest way to the temple. I found that it's far easier than ascending to Sabarimala.
The winch car and rope car only takes around 15 min to go up or down, but they will have long queues which may take several hours.
Walking may take far less time.
On top to see darshan, there is free entrance and paid (ticket) ones – Rs. 100 and above will take you near to see the Lord and save a bit of time for you.
And as far I could find only Hindus are allowed inside.
Arulmigu Dhandayuthapani Swamy Temple or Palani or Pazhani temple that we Malayalis call is around 5 hour journey from my home town – Thrissur.
There are a few direct KSRTC buses and one train (Amritha Express).
Arulmigu Dhandayuthapani Swamy Temple – Photos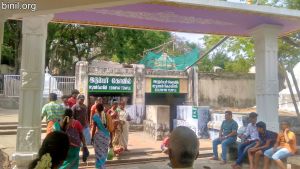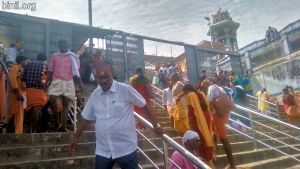 Do checkout other temples listed in this site.