Batterybhai, one of the best online battery stores in India has been operating in Thrissur from Jan 2015. They first started in Kerala at Thrissur. Later that they have began operating in Eranakulam, Kottayam and Thiruvananthapuram.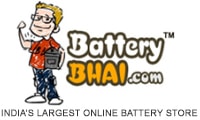 Advantages of BatteryBhai
– Cash On Delivery Option
– Free Installation
– Battery Exchange Option
– Good Pricing
Disdvantages of BatteryBhai
– No Malayalam Call Center
In Detail
From a customer point of view, Battery Bhai have a lot of advantages over other online retailers like Amazon, Flipkart or SnapDeal. When you order from sites like Amazon, Flipkart or SnapDeal, you will most likely receive the battery with some delay (2 to 3 days atleast). So if your car isn't starting, you will have to wait patiently.
This is where BatteryBhai shines – as soon as you order the battery from BatteryBhai, they will inform the local person in charge, who will call you and fix the time at which he will come to your home to install the battery.
Yes, you heard it right, they will come and not just deliver the battery, they will install it for you. They will also check if its properly working – that is charging voltage, current etc is ok. All this at no extra cost.
If you are getting the battery from some other site, you will most likely just receive the battery and you will have to install it yourselves or call a technician to do it (you will have to pay him also..)
In most cases, the delivery will be done in the same day itself provided that you order from Battery Bhai site in the morning so that they have time to process it. If you order in the afternoon or evening, same day delivery may not be possible, but they will deliver the next day. This is applicable to the specific city only (within 10km).
If you are far outside the city, say you are ordering in Thrissur (city) and you are residing 30 to 40 km away, there may be delays and you may need to provide some additional charge. (In my personal opinion, just give the technician some money for his petrol and time depending on the distance). You can also call or mail the BatteryBhai team to know the correct charge that you have to pay by telling them how far you are from the city.
Another advantage is cost saving, there is an option to take back the old non working battery (exchange) when installing the new one. You will save quite a good amount on this one. If you try to sell the old battery yourselves, you will most likely get cheated. For my WagonR battery in Thrissur, many told me that it (Amaron AAM-FL-00042B20L with 48 months warranty) costs around 4500 (MRP is 4555) and I will get it on around 4000 on exchanging my old battery. The same battery can be found in BatteryBhai with an exchange price of 3549.
The exchange price Battery Bhai mentions is when you exchange the battery of the same Ah (Amphere Hour) rating. If you are ordering a battery which is of higher Ah than the battery that you have with you, you need to call and confirm the price before ordering. This is to avoid any disputes during the delivery time.
I think the people who attend the calls in Battery Bhai are far batter than any customer care people in India. They are extremely polite and helpful. They don't speak Malayalam, but they speak both English and Hindi fluently. You can call them at +91 9555995119, 9555895119, 0120-4324000 between 9:30AM to 7:00PM. You can also email them at support@batterybhai.com
Also by exchanging you are making sure that the environment is not polluted by lead waste. The old battery will be taken for recycling.
Battery Bhai has both online and offline payment options. You can pay online when ordering the battery or you can also use the Cash On Delivery (COD) option. So if you are afraid of paying online, then use the COD option, you need to pay only when the battery is delivered and installed in your vehicle.
They will provide you with the GST bill and warranty card on delivery or send it to your mail or WhatsApp. Please note that some companies like Exide, SFSonic etc may not be providing warranty cards anymore, so you have to keep the bill with you for warranty purposes.
Also one thing I found in Thrissur section of Battery Bhai, they are not giving out all the types of batteries from companies – when I inquired about this, they said they have left out some parts/products which have high failure rates.
Please check out other reviews in this site.