K-Win Sunsol Solar PCU 1000 va is one of the Solar UPS or inverters from K-Win Power. The product that I am reviewing may not be a final product from the company. This was given to me as a testing piece and my current review is based on my views on this particular piece. The final product may have completely different specs and colours.
I think there may be a 800va version of the same model as shown on the box. The company haven't given me one as of now for testing – but I have got 1100va and 2100va systems which I will be reviewing.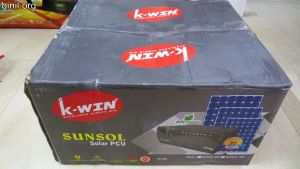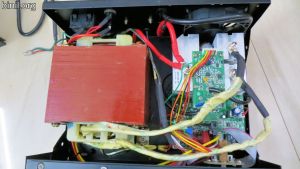 Now coming to the K-Win Sunsol Solar PCU 1000 in hand, this is the most bare bones version of a solar inverter. There is no digital LCD display, only LED indicators – to keep the costs to a minimun.
This is a sine wave solar ups or pcu. It has a 30amps charge controller just like the most of the solar inverters available in India. But it does have switches on the front for UPS mode and High Charging mode. Normally these are found in back of most home UPS systems, expect for Mahindra series (which is now not available).
Now this is a good and bad. The good thing is that you can change this without going to the back of the inverter, the bad thing is that sometimes people just switch both of them on without knowing what its used for. Have seen this a lot in Mahindra.
From the board inside, I think that the charge controller can be upgraded to a bigger one – the charge controller board is separate (the manual says it can be upgraded to 50 amps – its happening only if the company provides this board separately)
Its having fuses in the AC side and DC side instead of MCB's – most likely to keep the costs down.
The normal charging current is around 10-11 amps while high charging current is around 14 amps. The High Charging mode should only be used when you have a very good battery and if you are having frequent power cuts with little time to charge the battery.
In normal mode, it will have a wide cutoff voltage – 100V and 290V. In UPS mode it will be narrower – 180V and 260V. The UPS mode should only be used when you are having a desktop computer at home, otherwise you may end up using battery more often.
Do note that there are no other options to change the settings like charging voltage or solar changeover voltage.
Another thing to note is the warranty of 30 months or 2.5 years (as seen on the box and inside in the warranty card). This is higher than the usual 24 months warranty by other brands.
There is nothing special about this product – maybe expect the warranty and price. Don't know anything about the market price – The MRP shown on the box is 6500, so I guess you might get it in the 5000-5500 ruppes mark which is incredible value for money. The price is likely to be closer to 6500. Still you are basically getting a solar inverter or pcu for the price of a normal inverter.
Advantages of K-Win Sunsol Solar PCU 1000
Affordable Price – most likely it will be low.
Solar Charge controller can be upgraded to 50 amps
30 months warranty
Disadvantages of K-Win Sunsol Solar PCU 1000
Very bare bones – features are kept to a minimum
Settings cannot be changed except the UPS mode and Charging Current.
K-Win Sunsol Solar PCU 1000 – Conclusion
This Solar PCU or inverter is meant for the masses where cost is the main factor. This is absolutely a barebones product which works. This is most likely meant for offline sales from stores locally – so service wont be much of an issue. Don't know when this will be available in the market, but do watch out for this one.