Kuttanellur Sree Durga Bhagavathi Temple or Kuttenellur Bhagavathy Temple is located near the NH 47 bye pass road from Eranakulam to Mannuthy in the Kuttanellur area of Thrissur district, Kerala, South India. Its said to be one of the 108 Durga temples created by the Parashurama Maharshi.
The pooram here is famous for the Pandi and Panchari melams. This is one of the few places where the entire Pandi and Panchari melams are covered fully and amazing to hear. So it attracts melam fans from everywhere.
The diety is said to be the sister of Valarkavu Sree Durga Bhagavathi. Both Valarkavu and Kuttanellur pooram are on the same day.
Kuttanellur Sree Durga Bhagavathi Temple Pictures or Photos
Below are some of the pictures of this temple during the pooram on 2018

Below are pictures of Kuttanellur Pooram on 2019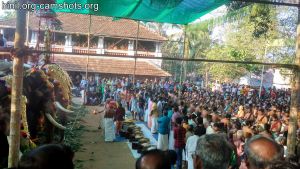 Below are photos taken during the pooram of 2020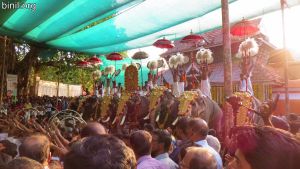 Below are photos taken during the pooram of 2021