Kaimakunnath Kavu Bhagavathy Temple is located in Mannur, Palakkad dist, Kerala, South India. It is one of the oldest temple in this area.
Mannur is a place with a lot of historical importance.
The Kaimakunnathu bhagavathy, the main diety of this temple is believed as the protector and blessing of this land.
The vela here is famous for the absence of elephants. Instead each 'Desam' came with 'Kala' or 'Kuthira' (made of straws and covered with white od colored clothes and color papers and lights) to show their devotion. Its also famous for Tholpavakoothu (a traditional form of shadow puppetry performed using leather puppets as a ritual dedicated to Bhadrakali)
Every year Vela is conducted on second Tuesday of the Malayalam month Meenam. This Vela is one of the biggest festivals in Palakkad district.
Pictures or Photos of Mannur Kaimakunnath Kavu Bhagavathy Temple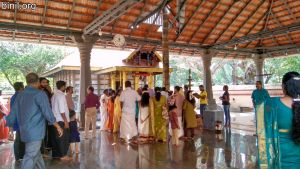 Please do check out other temples listed in this site.