Vimalanatha Church is located in Paravattani, Thrissur, Kerala State, South India. The church was established in 1961. It comes under the Archdiocese of Thrissur, under the Forane of Our Lady Of Lourdes Cathedral.
You can see the complete history of this church here in Malayalam.
Phone: +91 487 2421972
Holy Mass or Qurbana Timings of this church are as follows:
Sunday: 06:15am, 10:00am, 05:00pm
Monday: 06:15am
Tuesday: 06:15am
Wednesday: 06:15am
Thursday: 06:15am
Friday: 06:15am
Saturday: 06:15am
Vimalanatha Church, Paravattani Photos
These shots were taken on 7th Jan 2023.
These are shots of the 70th Thirunal festival at Jan 10, 11, 12 and 13 of 2020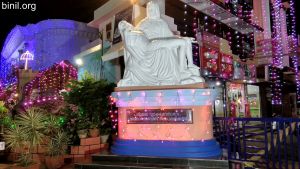 Below are pictures or photos of the Thirunal Festival on 12th Jan 2019.

The church is on the road connecting Thrissur and Mannuthy. You can easily reach this church from Thrissur or Mannuthy. There are direct buses from either side. If you are coming from out of station, please go to either North bus stand or Sakthan bus stand in Thrissur. From there you can catch bus going via Paravattani. Please note the holy mass timings shown above before visiting the church. The church may not be open at all times of the day.