Arattupuzha Pooram takes place in Arattupuzha Sree Sastha/Shasta Temple, which is considerd to be more than 3000 years old. To reach Arattupuzha temple, from Thrissur go to the Irinjalakuda route.
This pooram is considered one of the oldest pooram festivals in India. Arattupuzha Pooram is known as Devamela or devasangamam, where all 33 crore gods and goddesses assemble at Arattupuzha. The pooram starts in the evening and ends the next day.
It starts with Arattupuzha shasta coming out of the temple in a procession accompanied by 15 decorated elephants. As many as 250 percussionists performs panchari melam. This is known as Sasthavinte Melam. After this ceremony, the deity took position at a stand named Nilapaduthara and then the elephants that are carrying deities from nearby shrines or temples comes towards the temple and have their own melams.
With the arrival of the Thriprayar Thevar, Koottiyezhunnallippu will start where nearly 80 decorated elephants stood side by side. The holy bath or aarattu of the deities taking part in the fest will be held at Mandarakadavu. It is a ceremonial cleansing process in which the idol is immersed in the river and is accompanied by the chanting of mantras and floral offerings. The idol of Sasthavu, the presiding deity of the Sree Sastha Temple at Arattupuzha is the last to undergo the arattu. The idols are then taken to their respective temples after the arattu ceremony.
Photos of Arattupuzha Pooram
The following are some of the photos or pictures taking during this festival in 2017
Below are some of the pictures of the pooram taken on 19th March 2019.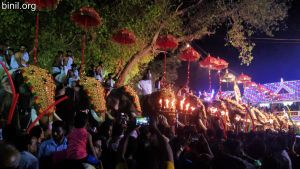 Below are pictures of Pooram on 26th March 2021.

These pictures and videos below were taken on the Pooram on 2023.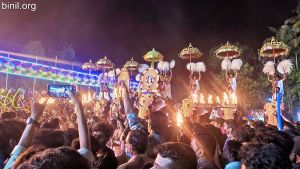 Please also check out Arattupuzha Tharakkal Pooram