Aykunnu Pandavagiri Devi Temple is situated in Venginisseri village, Thrissur district, Kerala State, South India. The temple is around 9km from Thrissur town. There are buses from Thrissur towards Kodannur which goes near through the temple. The temple situated on the hill top is a wonderful sight.
Its said that this is one of the 108 Durga temples consecrated by Parasurama. The name Pandavagiri came after the legend that the Pandavas during their 12 years exile, stayed here for a while.
The deity here (Durga Devi or Bhagavathy) is a participant of the famous Aaraattupuzha Pooram.
Photos or Pictures of Aykunnu Pandavagiri Devi Temple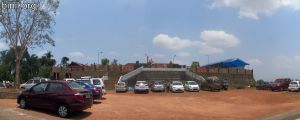 Do check other temples listed in this site