Kandanassery is a village in Thrissur district, Kerala state, South India.
The Burial Cave located in Kandanassery is a Megalithic rock cut one. Its located just around 2km south of Ariyannur.
The site is a protected monument under the Archaeological Survey of India since 1951.
The cave is the megalithic remains of the iron age.
The cave here can be entered through a recessed opening, the inner recess 0.7m wide and 0.33m leads into a chamber with a hemispherical dome and a paraboloid floor. There are benches cut from the rock on three sides. They are not uniform. The dome is around 1.5 m in height and there is a circular opening of around 70cm in the center.
Burial Cave, Kandanassery, Thrissur – Photos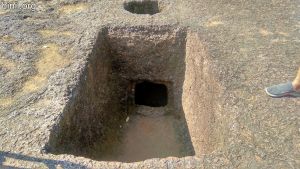 Do check out my travels.