Chettuva Backwater in Thrissur? Is there one? Most people wouldn't have heard of any backwaters in Thrissur. For your information, there is backwater in Thrissur.
Usually when we hear about backwaters, we usually think about Alapuzha (Alleppey). The backwater tourism there is huge. There are hundreds of houseboats, hotels and villas out there. Although Thrissur is not at all known for its backwater, well there are some… One of the best is Chettuva Backwater in Thrissur.
In Thrissur, Chettuva Backwater is located in between Engandiyur Panchayat and Kadappuram Panchayat. The backwaters start at Enamakkal Lake and extend to Arabian Sea. Please do note that the houseboats have only permission to go upto Chettuva Harbour. They don't have permission to go out to the sea (that scenery would have been spectacular)
There are some resorts, private hotels and boating available in Thrissur backwaters. If you are from Thrissur, its better that you get a simple 3 hour trip in a houseboat with your family and friends (which I took).
Initially I had thought of going to Alapuzha for boating, but both my son (who is 4 years old) and my mom (71 years old) may not like the long travel to Alapuzha (we either had to travel to Alapuzha via our car or bus or train which is a minimum 3 hours journey from Thrissur). So I searched for boating in Thrissur and found that there are a few teams who does this.
I found out one team – Kayaloram Houseboats. Found them in a WhatsApp group. Had a chat with them and decided to take the journey.
If you are from around Thrissur, I would suggest that you go for the afternoon trip – from 3 pm to 6 pm. You will get it for upto 20 people a rate of 6000 without food (the rates may vary according to season and demand). In the afternoon trip, you will get a good sunset if conditions are right. Also you could save the money for lunch (we had lunch at our home and went there).
In case of Kayaloram houseboats (which is located in Manalur near the Manalur bridge), they have 2 houseboats at the time of writing this article. Please do note that there are lots of houseboats and resorts coming up in and around Manalur. You should be able to get a good deal by talking with everyone of them. Take the best deal you can find.
Our houseboat journey started at around 3pm, we went through the Enamavu lake, under Pulikkakkadav Bridge, then under Chettuva bridge, upto the fishing harbour (as I said earlier, they don't have permission to go further). From there we returned back.
There are lots of Mangrove Forests (the biggest mangrove forest in Kerala is loacted here – do correct me if I am wrong), Resorts, Private Islands and religious places (temples, churches and mosques) on either side of the channel. Religious places here is something that I intend to visit in the future. My budget restrictions puts me in a hard place that I won't be able to go to the resorts or private islands to see or review them.
Ours was a big houseboat which could only travel through places where there is enough water. At our time of travel it was low tide which meant the boat driver had to be extra careful while navigating.
There is something for everyone here. For the adventurous people, I would suggest that you try to get a small boat for 2 or 3 people and start your adventure. For families and people like me who are scared of water, house boats are a safer bet. There are Ayurvedic centers in hotels around here where you could have a relaxing detoxifying experiance. If you are a wild life photographer, then there are various migratory birds passing through here.
Chettuva Backwater in Thrissur – Pictures or Photos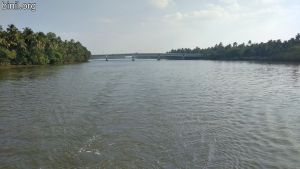 Do check out other travel destinations in this site..