Illikkal Kallu is located in Kottayam district, Kerala State, South India. Now its being developed as a major tourism attraction in Kottayam.
I have seen reviews in many blogs earlier that it was a quite dangerous place to visit. Now the govt have been developing the place, safety rails are placed so that no one falls off the cliffs and the entry is restricted to the dangerous places since people have died there before. Now the infamous Bridge to Hell cannot be reached. So now its more of a family friendly place.
You can travel via bike or car up to the parking lot. The roads up to there may not be that smooth.
There is a small entrance fee and a parking fee.
From the parking lot, there is around a 2 km trek to the view point. This trek may not be suitable for everyone. There is a jeep service which was not available at the time we visited.
Me and two friends who had came with me were struggling to walk – I think that its not just because of the steep incline, but also of the altitude. Its around 3000 feet high.
So if you are coming with elderly people or small kids, its better to avail the jeep service.
We had travelled to Kottayam on a different purpose, there was a meeting in the morning and one in the evening. So we had ample time in between. So for that we went to Illikkal Kallu.
I would suggest to come here in the morning or in the afternoon, since it will take some time to see the place and get back. There are also places nearby to visit like the. So its better to come early.
Its not recommended to visit during rainy or thunderstorm days as lightning will most likely strike this place. Also bring water with you if you intend to trek. You will need it.
Photos of Illikkal Kallu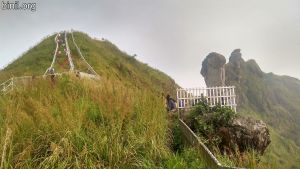 Do checkout my other travel destinations