Manalarkavu Devi Temple is located in Viyyur, Thrissur district, Kerala state, South India. Its around 4 km from Thrissur swaraj round, on the way from Thrissur to Shoranur. The distance from Wadakanchery to this temple is around 15km. It is located near the KSEB Substation. Godess Durga is the main diety. Ayyappaswami,Murugan,Rakshassu and Nagaraja are other deities.
The temple is under the supervision of Manalarkavu Devasom. There is huge amounts of parking space so even if you are visiting via buses, you can easily park her.
Vela is one of the most important festivals in this temple. According to our sources, the Vela is conducted based on the Malayalam months. If Makaram month of malayalam calender have 30 days, the Vela will be on Makaram 30th (February 12 or 13 in the English calender) and if Makaram have 29 days, Vela will be on Kumbam 1st (February 13 in the English calender).
There are various Kavadi teams participating in the Vela – Viyyur Ezhuthachan Samajam, Viyyur Central Jail, Padinjadumuri Padukkad Balasamajam, Pandikkavu NewKerala Kavidi Samajam, Thankekkadu SreeNarayana Kavidi Samajam, Viyyur Gurudeva Samajam Kavidi, Viyyur KavyaChetana etc.
Photos of Manalarkavu Devi Temple
These shots below were taken on 13th Feb 2020
These photos or pictures were taken on 13th Feb 2019.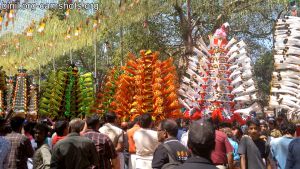 On the same day of Vela there is also Pooram at Sree Kuttiyankavu Bhagavathi Temple, Minalur