Sree Kuttiyankavu Bhagavathi Temple is located in Minalur (near Athani), Thrissur district, Kerala state, South India. Its around 12km away from Thrissur town, around 8km from Wadakanchery. If you are coming by bus, you can get down at Athani and there is a walk of a few hundred meters to the temple.
The main diety is Godess Bhagavathy and the sub diety is Lord Ayyappa.
The temple timigs are as follows
5:00 AM – 10:30 AM,
5:00 PM – 8:00 PM
The temple is located in the middle of the rice paddy fields. There is a banyan tree and a pond nearby.
The temple is famous for Pooram celebration. Pooram the annual festival, is usually held in the month of February, dedicated to godess Bhagavathy Durga or Kali. This is conducted by two desoms= Minalur and Thiruthiparambu/Ambalapuram. The temple was also known for its Vedikkettu, or grand fire fireworks. (The fireworks all around Kerala is not happening due to legal reasons).
Pictures or Photos of Sree Kuttiyankavu Bhagavathi Temple, Minalur, Thrissur
These photos were taken on the pooram on 13th Feb 2019.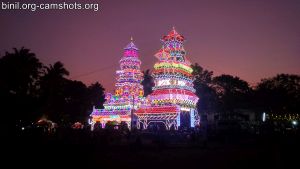 Below are shots of the pooram on 13th Feb 2020
The pooram is on the same day as Vela of Manalarkavu Devi Temple