Nelliyampathy is a small hill station in Palakkad district, Kerala State, South India. The word came from Nalli (who was an ancient goddess of the region) and pathy means place.
The ideal time to visit is in the December or January months, but any time without heavy rains in Kerala is a good time. During heavy rains the road can get blocked.
It's often referred to as poor man's Ooty. Yes its true to an extent. I would call this as a small getaway. That is if you are short of cash and want to have a getaway with your friends or family (on a tight budget).
You can visit it and get back in a single day. This is applicable for people from Palakkad or from neighboring districts.
Well I am from the neighboring district Thrissur and its around 2 – 3 hours journey from my place.
My suggestion is that you get to the first forest checkpoint located after the Pothundi dam at around 6am. The checkpoint allows people to enter at 6am, be the first in line to get through so that you have enough time to enjoy the views and get back by evening.
Pothundi dam – The gateway to Nelliyampathy
After passing through the forest checkpost, you can get an awesome view of the Pothundi dam. This is one of the oldest dams in India. This earth dam, built in the 19th century is across Meenichiladipuzha and Padipuzha rivers.
After that there are numerous viewpoints on the way to Nelliampathi.
On the way is Swami Ayyappan Kovil.
Besides this is the Ayyappanthittu Viewpoint.
When reaching Kaikatty Junction Bus Stop at Nelliyampathy, the road splits into two.
On the left you can go to Seetharakundu side, on the right you can go to Karadipara/Kesavanpara.
You can choose either route first. You can cover both if you arrive early. We were a bit late and was confused so that we lost a lot of time.
This is the ideal time for having a breakfast. There are some hotels for food and they are not costly.
When you go towards Seetharakundu side, you get to see Seetharakundu viewpoint and the option for off road travel in Jeep.
Seetharakundu @ Nelliyampathy
According to legends, Seetharakundu is the place where Lord Rama, Laxmana and Seetha Devi rested during their exile. Seetha devi took a dip at the pond and the place took this name. There is parking space and you need to walk for some distance to the viewpoint. At the time of writing you an only see just one viewpoint with the famous Nelli tree that you see in every shot taken by everyone. There are viewpoints beyond this, but the route is closed since some people took too much risk to get selfies and lost their lives. Hopefully this will be reopened. At the time of our visit, it was foggy so there were no views, but still this is a must visit place as it will provide your with some mesmerizing views.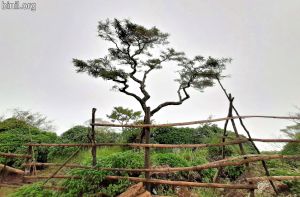 One more thing when you visit Seetharakundu – Make sure that you keep any food items in your vehicle (keep the windows and doors closed) as there are lots of monkeys which will grab your food. If you have any food items on you or your kids, they will steal from you.
Off-Roading @Nelliyampathy
Now another to do is off-road travel in jeep. You are not allowed to take your own off-road vehicle at the time of writing. You need to hire a jeep.
The off road charges will be around Rs.1400 to 1600 for 2 viewpoints and 2000 to 2200 for 3 viewpoints. If you are not physically ok or pregnant, this is not a ride that you should take.
The path goes through a forest checkpoint which open at 7am. It closes at 3pm. We did the ride at the last moment – at around 2:30pm which is the last one for the day. You will need to take tickets for the jeep driver and the persons in the jeep to get through.
The road is pretty bumpy (there is no road, just a mud track through the forest). But for the adventurous and thrill seekers, this will be a blessing.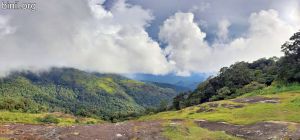 As I said before, people usually cover only 2 view points in the jeep, the 3rd one is a bit far away but its also enjoyable (and risky).
There is a small temple at this view point.
Besides this on the other route, you get to visit Kesavanpara and Karadipara.
Kesavanpara @Nelliyampathy
Kesavanpara is a superb viewpoint. Its a small walk from the road – around 500m. You can see the views of forest and pothundi dam . This place got famous after the film Mrigaya was shot here.
After that you go through tea plantations towards Karadipara.
Since we arrived a bit late and due to our confusion, we were unable to cover Karadipara in the same day. We had to go back since we all had jobs the next day. So we didn't cover Karapara Water Falls and hanging bridge.
If you have 2 days and money to spend you can stay in one of the resorts, have night safari in jeep, go trekking etc. These resorts are expensive at around 2500 per person per day. There are also small hotels with rooms starting from Rs. 600.
If you have very less money and still need to visit Nelliyampathy, there are KSRTC buses from Palakkad.
Video of our travel – by Amal Raj
The video was taken by my friend Amal Raj for his Youtube Channel. Do subscribe and support him.
Beware of Leeches
Leeches will be present throughout your journey at Nelliyampathy. A small piece of cotton soaked in strong salt solution or use your sanitizer to remove them from your body.
Do check out my travels..