Microtek Luxe is the inverter/UPS model which has a LCD display on it.. That's just sums up this inverter series.
You guys might think that I am joking, nope. That's just the difference (in my opinion) between this series and any other Microtek series like the HB series that I reviewed before.
I checked out 3 models of this series – Luxe SW 1000, Luxe SW 1200 and Luxe SW 1400. Now these are just numbers – something that the marketing team comes up with. They are in no way associated with the actual capacity of the inverter. Of course Luminous started this trend and it seems that every manufacturer including Microtek is now implementing this little lie.
I definitely hope that manufacturers goes back to the old (true and perfect) wattage rating (not the VA rating). Even the VA (Voltage Ampere) ratings are exaggerated by manufacturers.
Now Luxe SW 1000 model is 800 VA or 640 watts, Luxe SW 1200 model is 950 VA or 760 Watts, Luxe SW 1400 model is 1100VA or 825 Watts.
These are all sine wave models. Well most of the Microtek models are sine wave except the EB series which is square wave. I think that all the transformer and board of SEBZ, E2SW, HB are all same.
The main transformer in Microtek Luxe isn't Copper – its an Aluminum alloy. It's not an important factor as I haven't seen any transformers being blown by lightning or heavy loads.
We load tested each of them and they does handle the loads specified in watts with the 1000 model being the exception – it was able to handle almost 700 watts against the 640 watts specified on it. This was the very similar with the HB 875 model, which also was able to handle more load than specified.
Microtek Luxe – Photos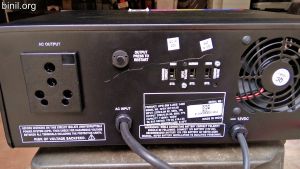 Microtek Luxe – Advantages
* LCD screen – The screen displays all the essentials like input voltage, output voltage, charging time needed for the battery when mains is present, time remaining (backup time) of the battery when there is no mains etc.
* Service Network – the service of Microtek is pretty decent all throughout.
Microtek Luxe – Disadvantages
* Price – This is priced much higher than the other models of Microtek inverters. Just for the sake of having a LCD display does not suit the premium that it demands.
* LCD display only and no LED indicators – The LCD display should be ok for young people, but for elders, this may be a bit tough to see. They should have kept the LED indicators along with the LCD display.
* Microtek specifies that its "Easily Serviceable" in their website – its true – you just have to replace the board when anything goes wrong. There is nothing to service as the board is completely SMD (Surface Mount Devices). So why I put it as a disadvantage – simply the cost of the board is going to come off your pocket when the warranty period is over. Simply put the board can't be repaired – it will need to be replaced. Please do note that most manufacturers are using SMD boards which cannot be repaired.
Also I really hope that Microtek goes back to its old design and not use the SMD design anymore. The old boards were easy to repair.
Another point to note is the reliability of the LCD displays. Don't know whether this will last or not. Several manufacturers have this issue with LCD displays – they usually last around 4 to 5 years only. Hope that I am wrong about this and this one lasts.
So in conclusion, if you absolutely need a LCD display for your inverter/UPS go for Microtek Luxe models.
So that's it. Show your love below in the form of likes and shares. Do comment if you have anything in mind.