I have bought a Nuiflash 128 GB Micro SD Card from Aliexpress.com. This was the first time that I am ordering from Aliexpress. (the card turned down to be a big fake).. Don't buy..
I had ordered it for a price of Rs. 777.75.
I had ordered one more item with this and applied the first time coupon to reduce the amount.
I had settled for the 128GB version since this is the maximum memory that is supported by my phone. I would have gone for the higher 256GB version had my phone supported it.
It was ordered on 31st Dec 2019 and it was received by me on 21st Jan 2019. So 21 days to reach me. It reached me locally via Indian postal service (which I think is far better than the other courier services in India).
Nuiflash 128 GB Micro SD Card Photos
I am including the photos of the product. In the case I have also received a micro SD to SD card adapter.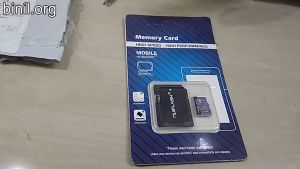 So far I have checked the capacity and its showing that correctly in windows laptop and in android phone. This is supposed to be a Class 10 U3 card. I have only tested it basically. When copying files from my laptop to the micro sd card I am getting around 14 MB/s speed, on copying from micro sd card to laptop I am getting around 17 MB/s. I will further test it and update this.
UPDATE:
It started showing issues soon as data storage got more than 32 gb. After 32 gb anything copied to the sd card is lost. So I suspect that this is a 32gb card which is faked to be a 128gb one. Since 15 days are over in Aliexpress, I won't be getting a refund.
Positives
– Its Affordable (its utter crap though)..
Negatives
– Warranty if present also, may not get replacement.
– This is a rather unknown brand for me. Never used it before.
– Fake card
Conclusion
I don't know about the company or whether its products are good – The SD card that I have received is a fake…
Please do check out my other reviews