Olarikkara Sree Bhagavathi Temple is one of the famous temple which is situated at Olari or Olarikkara in Thrissur District, Kerala, South India. The temple is 4 kms away from Thrissur town and is situated amidst of serenic beauty in natural environment in vast ground facing the east. Four Desams or places come under Olarikkara Thattakam. These are Ayanthole, Olarikkara, Pullazhy and Puthurkkara.
Important Festivals of Olarikkara Sree Bhagavathi Temple
Thalappoli – First Friday in January after 16th in month of Dhanu
Makara Chovva – The first Tuesday of the Makara after twenty days of Parapurappadu
Prathishttadinam – On hastham day in month of Meena accompanied with melam and prasadam distribution.
Navaham – Discourse of devi charitham in the month of Karkadakam
Navarathry – Laksharchana , Durgapooja in the month of Kanni
Sarpakkavu Prathikhttadinam – On the first Ayilliam day in month of Kumbha
Illam Nira – On Sunday after new moon in the month of Karkadakam.
Mandalam Kalam Ezhuthu Pattu from Vrischikam first until Thalappoli festival.
The Temple Timings are as shown below.
The temple opens at 5:00 am.
Usha Pooja at 7:30 am
Ucha Pooja at 11 am
closes after Uchha Pooja.
The temple opens at 5 PM in the evening followed by Deeparadhana,Chuttu Vilakku and Athazha Pooja at 7:15 PM
The temple closes at 8 PM.
Photos of Olarikkara Sree Bhagavathi Temple
Below are some of the pictures or photos of this temple.

Below are some of the shots taken during Olari Vela on 3rd Jan 2020.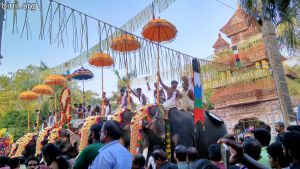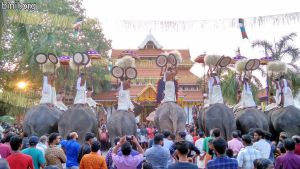 Also check out Olarikkara Kandankkavu situated nearby.