Sree Vettukunnathukavu Bhagvathy or Devi Temple is located in the village of Karuvnnur, on the way from Thrissur to Irinjalakuda/Kodungallur.
Besides the Godess/Devi/Bhagavthy, the sub deities are Ganapathy, Sasthavu, Durga and Vishnu.
There are legends associated with this temple.
The legend is that dur ing the invasion of Tippu Sultan a family from Tirur Vettathu Nadu (now Malappuram District) in fear of the military assault ran away from there and took rest at Karuvannur on the way.
After resting for a while, when they began to proceed their journey they were not able to lift the Olakuda (umbrella made with palm leaf).
It is believed that the traditional/family Goddess who came with them for protection of that family was on the umbrella and in rememberence to that they constructed a temple at that place for their family deity.
This family who reached from Vettathu Nadu was known as Vettiyattil family and temple came to be known as Vettukunnathukavu Bhagavathy temple.
Sree Vettukunnathukavu Bhagvathy Temple, Karuvannur – Photos and Videos
The photos and videos below were taken during the Bharani vela celebrations.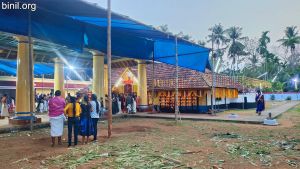 Do check out the temples featured in this site.