Sri Midhunappilly Siva Temple (ശ്രി മിഥുനപ്പിള്ളി ശിവക്ഷേത്രം, തൃശ്ശൂർ) is located in Palace Road, Thrissur district, Kerala State, South India. Though Thissur is famous for the Vadakkunathan Siva Temple, there are various other Siva temples scattered across Thrissur town. One of them is this temple, which is only a few hundred meters away from Vadakkumnathan Temple.
As you assumed the main diety here is Lord Siva.
Photos or Pictures of Sri Midhunappilly Siva Temple, Thrissur
These pictures below were taken during the Sivarathri festival on 21st Fen 2020.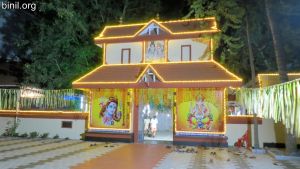 Check out other temples listed in this site.