Uthralikkavu Temple (the full name being Sree Ruthira Maha Kali Kavu Temple) is a small temple located in Thalappilli Taluk, Enkakkad Village, Wadakancheri Panchayat, Trichur District, Kerala State, South India. Situated in the paddy fields on the road connecting Wadakanchery to Shornur, this is said to be one of the most picturetique temple locations in Kerala.
The temple is around 20 km from Thrissur via Wadakanchery (2km from Wadakanchery), around 13km from Shoranur, around 24 km from Kunnamkulam. You can get buses from Thrissur North bus stand. Take Shoranur or Chelakkara buses and you can get down in front of the temple (expect during pooram – at that time you may have to walk or catch an auto from Wadakanchery).
The temple is dedicated to goddess Bhagavathy or Maha Kali. The diety here is said to the sister of the goddess in Machad Thiruvanikavu temple.
The temple is famous for its vela or pooram. This is one of the grandest festivals in central Kerala attracting people from near and far and from all religions.
There are 3 desams particpating in the festival – Enkakkad, Kumaranellur and Wadakanchery.
Earlier there used to be big fireworks, each desams putting their show during the sample (2 days before the pooram), on the pooram day and on the morning the day after – totalling 9 fireworks. Now this is reduced to 3 small fireworks (due to the strict actions by the central govt, now the firworks are just for name sake) – one desam will perform on sample, other on pooram day evening and the last one next day morning.
But the pooram without the big fireworks is still going strong – the 3 desams participate with elephants, panchavadyam and melam.
Photos or Pictures of Uthralikkavu or Sree Ruthira Maha Kali Kavu Temple
Some pictures of the temple were taken earlier by me, rest are taken during the pooram.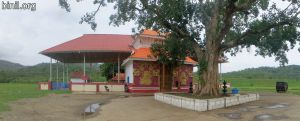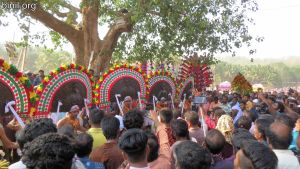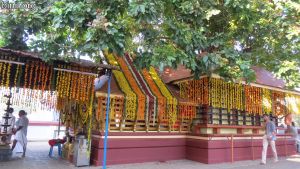 This is a video by my friend Swaroop about Uthrlikkavu Pooram 2020.
https://youtu.be/F1wVBSEHqtE