St. Antony's Forane Church, Pudukad is located in Thrissur district, Kerala State, South India. Its around 15km from Thrissur, 16km from Chalakudy.
St. Anthony was a fourth-century Egyptian who eschewed his possessions, moved into the desert, and became the "Father of All Monks."
In the middle of the 18th century, the catholics of Pudukad and its surrounding areas were depended for their spiritual needs in St. John's Forane Church at Parappukkara, which is six kilometers away from Pudukad.
It was extremely difficult for the people to reach their parish regularly for the sacraments. The tribulations of the long and arduous journey so worried and depressed them that the 32 Catholic families of Pudukad took a strong decision to build their own church at Pudukad, however hard that might turn out to be.
There were financial shortages and limited resources at that time. The small but determined Catholic community began the work on a church and they completed the building using terracotta blocks, lime, locally available wood and palm fronds.
Popular belief is it that the statue of Saint Antony to be placed in the church was brought all the way from Kallorkkad in Kothamangalam diocese. Pudukad got separated from its parent church and was consecrated on 12 February 1764.
The church that we see now is the newly built church facing the national highway. Part of the old church, built during 18th century is preserved in the basement of the new church. Foundation Stone Of New Church Was Laid On 19th January 2013 and the blessing of new church was on 19th November 2016 By Mar Andrews Thazath, Archbishop Of Thrissur.
Photos of St. Antony's Forane Church, Pudukad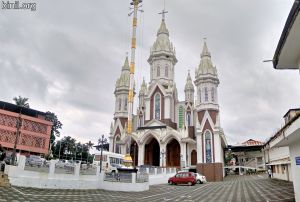 St. Antony's Forane Church, Pudukad – Holy Mass Timings
Sunday: 05:30am, 07:00am, 09:00am, 05:00pm, 07:00pm
On Other days: 07:00am, 05:00pm
St. Antony's Forane Church, Pudukad – Contact Details
Phone: +91 480 2751225
Do check out other churches listed in this site. Do post your views and suggestions in the comment box below.