Kurinji Andavar Temple is one of Kodaikanal's most revered places of worship. The colorful temple is dedicated to Lord Muruga. Its located at a distance of around 3 km from the Kodaikanal Lake, around 5kms from Kodaikanal Bus stand.
In Tamil language, the word Kurinji means 'hill region' and Andavar means 'God'. Thus the name itself symbolises its connection with the hill and the God of the hill. The temple has also connection with the Kurinji flower which blooms on the hill once in 12 years. Lord Muruga, the temple's main deity, is often called as 'Sri Kurinji Easware' meaning the Lord of the Kurinjis. Well it was initially named Sri Kurinji Easware Temple. The name later changed to the Kurinji Andavar Temple.
There is a story behind the temple. A European lady, who was influenced by the religion of Hinduism, adopted the religion and her name to Leelavathi. She married a Tamilian Ponambala Ramanathan. She used to see the Palani hill from here, most of the days she used to wait for more than 5 hrs and someday it was about 8 hrs. It was said that Lord Muruga came in to her dreams and ask her to build a temple here. She patronized the construction of the temple that was erected in the year 1936.
Leelavathi's granddaughter, Devi Prasad Baskaran and her husband Baskaran donated this temple to the Palani Andavar Temple.
Arulmigu Dhandayuthapani Swamy Temple, Palani is managing the Kurinji Andavar Temple and also the Arulmigu Kuzhandhai Velappar Thirukkovil situated at a distance of 21KM from Chettiar Park.
The small temple has a three tiered tower and a single parakaram surrounding the main shrine. In the prakara the sub-shrines of Vishnu, Ganesha and Nava Graha are found. Facing Vishnu, there is Hanuman idol; beyond that there is Garuda idol.
You can also have amazing view of the Palani and Vaigai dam from this temple when the skies are clear.
Kurinji Andavar Temple, Kodaikanal – Photos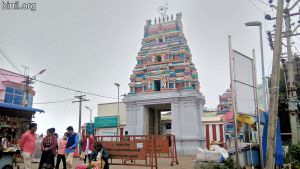 Do check out other temples listed in this site. Do post your views and suggestions in the comment box below.