Chirakkal Desapattu is held every year as a part of Vela in Thiruvambadi Sri Krishna Temple, Thrissur disrict, Kerala State, South India.
Vela in the temple should not be missed by people in Thrissur.
Thiruvambadi Sri Krishna Temple Vela – Chirakkal Desapattu – Photos
The pictures below are taken on 6th Jan 2023.
The photos below were taken on 7th Jan 2022.
The shots below were taken on 8th Jan 2020. On this day, there was Panchavadhyam by Kalmandalam Vinayan and Party. At 8:30 pm there was elephant procession along with Panchari melam by Kelath Sundara Marar and Party.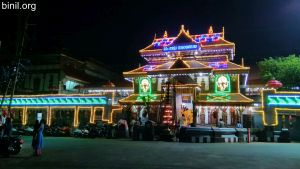 Please do use the comment box to voice your opinions about this.