Uravappara Sree Subramanya Swami Temple is also known by the name 'Malayala Palani'.
Its located in Olamattom near Thodupuzha in Idukki district, Kerala State, South India.
Its around 100km from my home town Thrissur, around 63 km from Eranakulam.
It is situated approximately at a height of 500 ft above mean sea level.
Lord Muruga presides here in the form of 'Bala Subramanya'.
The annual festival in the temple is held in Makaram month and it coincides with the Thaipooyam festival.
Its believed that the pandavas had stayed here during their exile.
There are three huge boulders present here which are believed to be the three legs of the stove of their kitchen.
The pond is said to be created by Bhima and is called Uravappara.
Uravappara means water trickling down the rock to form a pond.
Please note that the temple is only open during morning hours from 6:00 AM to 10:00 AM.
Only during special occassions it will be open for longer durations.
From Thodupuzha-Idukki road there lies a pathway leading straight upto this ecstatic place.
There are two ways by which the temple can be reached – either via foot along the rocks or through a narrow road for smaller vehicles.
You can go on a two wheeler or small car or offroad vehicle through this narrow road.
If you are in good physical condition, you can walk through the rocks from below, else it better to use the road.
The best time to reach here is in the early morning to view the sunrise and the misty mountains all around.
Also it will be a very cool at that time, afterwards when the sun comes up it will be very hot.
Uravappara Sree Subrahmanya Swami Temple – Photos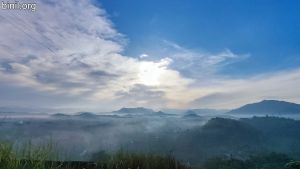 Do checkout the temples listed in this site.