The Vagamon Orchidarium and Floriculture project is up on Elappara – Pullikkanam road.
This is a unique venture by Kerala Forest Development Corporation Limited.
There is a large collection of varieties of orchids and varieties of roses.
They are all well arranged in a vast area of land – around 15 hectares.
This is a real paradise for only those who love flowers and are interested in growing Orchids and roses.
Other normal travelers may not find this interesting enough.
The landscaping is well done with good walk ways, check dam (with boating), benches to sit and relax etc.
There is a small cafeteria for light refreshments.
Vagamon being a hill station with comparatively cool climate seems to be good for orchid and roses. Also the staff maintains them remarkably well.
Vagamon Orchidarium and Floriculture Project – Photos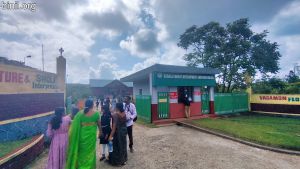 Do checkout my travels in this site.