Valiyalukkal Bhagavathy Temple is located in Kanimangalam, Thrissur district, Kerala state, South India. This temple is around 5 kms away from the famous Vadakkumnathan Temple on the way to Kodungallur.
Near the temple, there is a vast open ground having "Big Baniyan Trees" which in Malayalam translates to "Valiya Aal Maram" – from which it got the name Valiyalukkal (Valiya Allukkal).
The main diety is Devi or Bhagavathy worshipped in the form of Vana Durga (forest goddess). Devi is embraced with nature and Sri Kovil has uncovered roof, Devi gets direct Sunlight and Rain. The sub dieties include Matha VanaDurga, Manikandan (Ayyappan/Sasthavu), Bhadrakali etc.
In old days two times in a year, 'Makaram & Edavam" there is parakkezhunnallath, but now in Makaram month only having Parakezhunnallath. It starts on 1 st Tuesday in Makaram. In Vrishchikam 1st to 40 days "Kalamezhuthu pattu" is celebrated.
Seven "Vela" celebrations are there. But mainly "Aswathy Vela" is celebrated as the main festival of Temple, which comes in Malayalam Month of kumbham. 15 days before the festival there will be Desa Para. Devottees in Kanimangalam participate in this "Parayedukkal chadangu". Aswathy Vela is celebrated with caprisoned elephants, melam, panchavadyam, they vadyam, mudiyattam, kolkali etc.
Other Festivals are Pathemudayam, Makara Sankramam, Kumbam month's Revathy Vela, Bharani Vela, Sankranthi Vela & Vishu Vela.
Photos of Valiyalukkal Bhagavathy Temple
These photos or pictures were taken on the festive occasion of Aswathy Vela on 10th March 2019.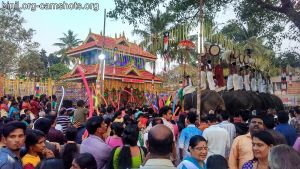 These shots below were taken on 28th Feb 2020