Iringole Kavu is a Hindu forest temple dedicated to Goddess Durga, situated in Pattal village, Kunnathunad Taluk of Ernakulam district, 2.5 km from Perumbavoor. This is said to be one of the 108 Durga Temples in Kerala believed to have been consecrated by Lord Parasurama, the sixth avatar of Lord Vishnu.
Iringole Kavu – Myths and Legends
Even though there are many myths and legends behind the temple, the main one is this –
Kansa imprisoned Devaki and Vasudevar due to the fear that their eighth son who is to be born soon would be the one to kill him. In fear, Kansa decided to kill their all sons when they are born. Vasudevar planned to save his eighth son from the danger at any cost. The parents shifted baby Krishna to Vrindavan soon after he was born and replaced by another girl baby (an incarnation of the goddess Yoga-Nidra or Maya) in the cradle. Kansa decided to kill the girl baby too, despite realising she was not the eight son of Vasudevar. He lifted the baby furiously above his head, but miraculously the baby became a supernatural power and came to this place.
The fallen and old trees and even the undergrowth in the Kavu are never removed as it is believed that the Gods who descended on the earth to pay homage to the Goddess, become trees and plants in the Kavu.. So no tress or plants are cut here unless they pose a big danger to the public.
The Goddess changes from Saraswati in the morning to Vanadurga in the afternoon and later in the evening becomes Bhadrakali.
Here only tulasi or the holy basil and non-fragrant flowers, such as the lotus, are used for the rituals.
Myth or reality, the nearly 50 acres of forest is home to birds, animals and flora of the Western Ghats that are on the endangered list.
Iringole Kavu is open from 5:00 am to 11:00am in the morning and from 5:00pm to 8:00pm in the evening.
There are 3 main forest roads that lead to the temple. Two-wheelers can reach near temple. Car or bigger vehicles has to be parked in main road and you will need to walk around 300m. As far as I know people of all religion are welcome here.
Iringole Kavu – Photos
The place is so scenic that it is difficult to stop taking photographs even though its prohibited officially. People take photos, and it seems to be ok with the officials as long as you don't disturb the privacy of others.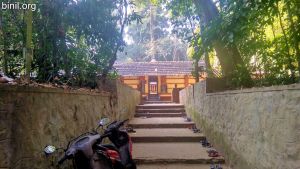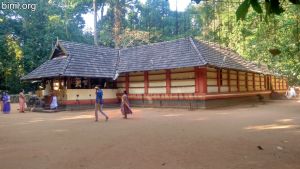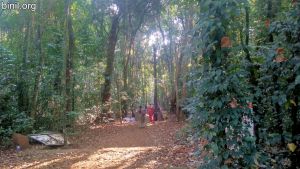 Do checkout other temples listed in this site.