Microtek Hi End PWM PCU 2550 is supposedly latest from their stable of Solar Inverters. Yes, you heard it right – I did use the term – supposedly. This is because its remarkably similar to one of the solar inverters that I had reviewed before – K-Win 2100 Solar Hybrid PCU. Even the packing seems the same.
It's likely because the parent company of K-Win sopped marketing their brand and they are now selling this to Microtek. Now this is not a bad thing, I liked the K-Win series because of its load bearing capacity. It was easily able to handle huge loads with ease. The same is here with this model. It can easily handle my normal house loads (TV, Fridge, couple of lights, fans and my 0.5 hp pump). So thumps up in load bearing department.
Now coming to this model, its a complete difference from their normal solar models like 1435, 2035, 2335 etc. Those were having just 35 amps charge controller while 2550 is having a 50 amps charge controller able to take upto 1800 watts solar panels.
Please note that Microtek Hi End PWM PCU 2550 is a 2200 VA model. Luminous started the numbers crap game – so now every manufacturer is making some crappy number for their inverter model. So 2550 doesn't mean that its 2550VA – its just a model number.
This is a 24V model – that is it needs to have 2 batteries connected in series. Just like any off grid solar inverter, it can be used with panel, without panel and even without grid or mains if you provide big enough batteries.
Since its a PWM, you need to connect 24V panels in parallel, not in series. The max VOC it can handle is around 49V.
It has a lot of features that will spark interest of the enthusiasts. You can configure loads of settings like solar charging current to battery, changeover voltages, max and min cutoff voltages, even set the time when to cut mains off or on. The settings are just mouth watering.
Microtek Hi End PWM PCU 2550 – Photos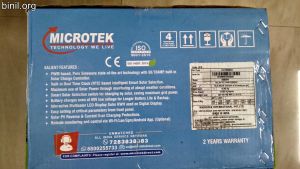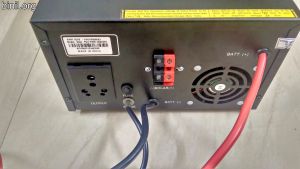 Advantages of Microtek Hi End PWM PCU 2550
* 50 Amps charge controller – can connect up to 1800 watts panel
* Can handle loads pretty well when compared to their low end models.
* Feature rich with loads of settings possible
* As usual, the service network is pretty decent for Microtek.
Disadvantages of Microtek Hi End PWM PCU 2550
* No plug top for power input..
* Price – a bit higher than I expected. While K-Win 2100 was priced at around 12-13k – this is going to be a little higher. It should be around in the 15 – 16k region.
* just 24 months warranty – K-Win had 30 months, and some manufacturers are starting to provide 36 months service warranty, so with the price increase they should have topped up their warranty period.
Please note that PWM can't be considered as a disadvantage – a proper PWM is much better than MPPT for low power solar solutions. Some day I may write more about this. Its a numbers game that people are not able to understand or the implementers don't want people to understand.
Another point to note is that the board prices, the normal solar inverter boards of Microtek (like 1435, 2035, 2335) are priced way higher (almost double or more) when compared to their normal inverter models. So when they are damaged beyond the warranty period (don't expect that you could repair the SMD board), expect to loose some money out of your pocket.
Besides this there is another Hi-End PWM PCU – 4050 – 48V – that's a 4 battery system – I haven't got one to review – if I get it, I will review it.